Our Wide Variety of Custom Bathtubs
As your dream bathroom renovation begins to take shape, you may find yourself staring at a gaping hole where your new bathtub should be. Will you settle for some big-box store, off-the-shelf tub, or will you indulge in a custom bathtub available from a high quality provider like Synmar and Castech? 
Bathroom remodels have been known to return more on homeowners' investments than any other renovation. If you're planning on renovating your bathroom, why not step it up and upgrade to the sort of tub that reminds you of a posh resort, beautifully appointed presidential hotel suite, or owner's cabin of a luxury ocean liner? Consider the many advantages, beyond the long-term investment, of amazing custom bathtubs. 
Shape of Things to Come
Our luxurious custom bathtubs come in three shapes to provide you with ready answers to any space or design challenge:
For each of these general shapes, you can choose from several design options. We at Synmar and Castech are proud to offer three rectangular custom bathtubs, three oval baths, and two corner custom bathtubs to fit any space. Whether you need to accommodate two people in one cozy tub, a short bath, or a tight corner space, we have the custom bathtub to help.
Rectangular baths include these three designs:
The Marseille—six feet of pampered luxury
The St. Maritz—a six-foot hourglass shape to cradle you
The Seville—a five-foot tub with jets available in six colors
Oval baths are offered in three arrangements:
The Lausanne—a six-foot cocoon of warmth
The Odessa—large enough for two to bathe away stress, or heat things up
The Valletta—a five-foot gem for tighter spaces
Corner baths typically provide for dramatic staging, help solve layout riddles, and make for easy entry and exit:
Nice Finish
Our custom bathtubs offer many choices in finish, through the amazing technology of cast marble, or cultured marble. Cast marble custom bathtubs allow for a beautiful, smooth finish that requires almost no maintenance. From a wide selection of colors and patterns, you choose the perfect accent color, complementary tone, or adjacent color to work with new or existing bathroom features.
The tough, bacteria-resistant cast marble surface cleans easily with non-abrasive spray. You can spend time luxuriating in your custom bathtub without worrying about a lot of bending, scrubbing, and sanitizing.
Custom Bathtubs
When we at Synmar and Castech say "custom bathtub," we mean custom, from the pipes up! Your new bathtub can be made to your exact specifications:
size
color
shape
 drain location
Further, we can help you select from features that set your custom bathtub apart from the rest:
whirlpool jets
air/bubble bathtubs
whirlpool and air bath combination
bathtub heaters
tub lighting
Mood
Whether you want to cast a calming, serene mood with your custom bathtub, need a sturdy soaking tub for the family athlete, or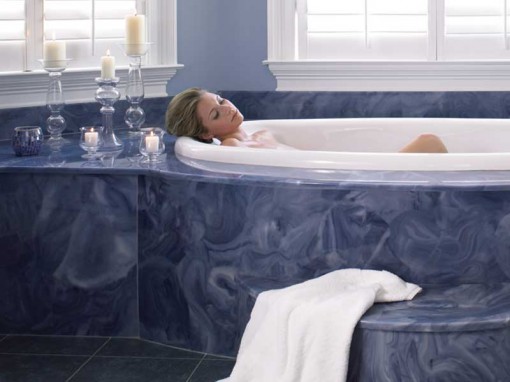 want a romantic getaway right in your own home, our custom bathtubs and whirlpool baths are a showroom visit away.
Imagine stepping into your new bathroom accented by gently glowing candles, and slipping into a deep, enveloping tub of bubbles and warmth. Imagine easing aches and pains with therapeutic soaks. Or consider the family fun of scrubbing the little ones in a bathtub that can handle all the toy tugboats and bubble bath monsters your kids can create.
Here to Help
At Synmar and Castech we are ready to show you our many custom bathtub offerings, but more important, we are ready to listen. We want to work with you to help you realize your dream of an ideal bathroom environment. Stop in today, or contact us, to discuss how we can provide you with the custom bathtub perfect for your needs.