How To Choose A Vessel Sink
Are you seeking to build a new home or remodel your current bathroom? There are many factors to consider when seeking to design or re-design your bathroom–specifically with the type of sink, you may choose from the traditional under mount sink to the vessel sink.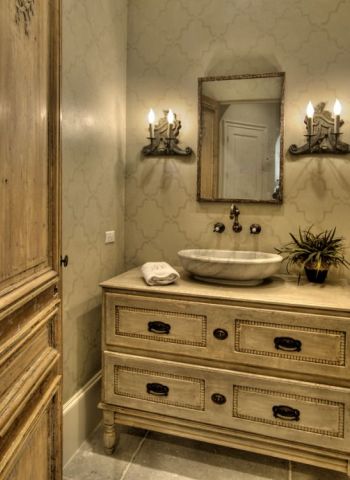 So, what is a vessel sink? A vessel sink is a basin that sits on top of the counter, rather than inset into a counter like undermount sinks are. There are some pros and cons to this type of sink when choosing the right kind of sink for your new bathroom or bathroom remodel.
Pros:
They add real style and panache to any bathroom.
The vessel sink gives you more space inside the vanity.
It dresses up your bath.
They come in many shapes and sizes. They can be made out of many materials, like pottery, stone, metal and glass.
They are good for smaller countertops because they take up less space.
Cons:
Since the edges are exposed, they are prone to breaking and chipping if they are in a bathroom that is used frequently.
They are a good bit more in cost because each one is unique.
They are not as stable as traditional sinks because they are only secured at one point.
Installation of these sinks can be complicated, requiring custom holes that need to be hand cut out of the countertop.
Vessel sinks can cause more splash and you have to be careful with overflow.
They require a faucet that is tall enough for the basin.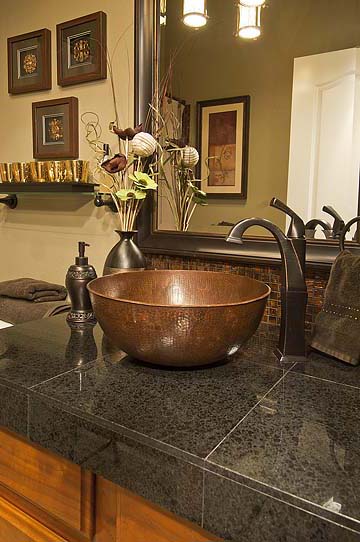 Consider the Height and Location
Vessel sinks work great in small bathrooms, but consider how it will be used in your bathroom. For instance, if you wash your hair in the bathroom sink, it might be difficult to do in a vessel sink. Thinking of putting one in a child's bathroom? You might need to install a deeper design to reduce splashing and accidental overflow. The taller the counter, the higher the vessel sink will be. Consider the user and adjust measurements from there. If you get a counter that is too high, it will make using the vessel sink difficult. Also, you want the vessel sink to look like it is sitting on top of the counter naturally and is not attached.
Several Fixtures are Available
Since vessel sinks sit higher than standard sinks, they require a special faucet. You can either have a wall-mounted faucet that comes out from the wall above the sink, or a countertop mounted faucet that has a curved neck.
Vessel sinks are great in small areas and can really make a statement. There are lots of options for creativity in the design of these sinks to your bathroom stand out.
Image sources:
Copper vessel sink: rogersrealty.net
Marble vessel sink: segretosecrets.squarespace.com
Two-tiered vessel sink: yourdecoratinghotline.com