Fresh & Modern Bathroom Trends
The bathroom is a place for contemplation, relaxation, and rejuvenation. Your bathroom should express your unique style and affectations. As a place of cleansing, the aura needs to exude a combination of quiet calm and intimate privacy. Modern bathrooms are updating the traditional mold to a clean minimalist aesthetic. Here are some of the trends we're seeing in contemporary bathrooms.
Space and Luxury
Today, many are moving away from the decorative, overcrowded bathrooms. You may hide the shelves, open up the space, and give yourself freedom of expression without all the clutter. Freestanding tubs and walk in showers sporting glass walls with no frames are a hot trend right now. These types of showers allow people to enjoy a more spacious area while adding modern design to the room.
In addition, fill your space with all the luxury of a professional spa. Designers are including combo sauna and steam rooms to detox and take care of your skin. If soaking is more your style, dip into a new whirlpool tub with massaging elements and aromatherapy salts. Take advantage of all the technologies and designs modernity has to offer as there are no limits to the space and luxury you can include in your bathroom.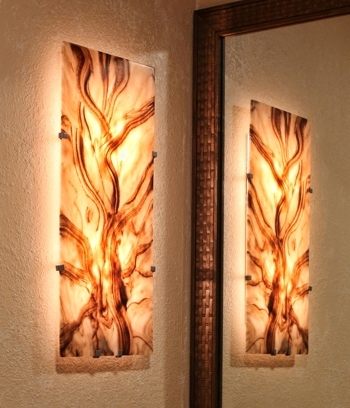 A Natural Setting
Another trend of 2014 is to include natural elements in your décor. One popular item is a 'living wall'. These vertical terrariums are filled with fresh-air producing plants that provide both natural beauty and odor control. If you're not a green thumb, personalize your bathroom with other natural materials like pebbled floors, found-wood framed mirrors and shells.
Other Options to Consider
If you aren't one for a blend of natural blues and beige, try a more modern look with patterns and designs. Cast marble gives your bathroom a delicate, sophisticated look while providing easy maintenance. Their sleek designs with soft colors and intricate veining can have your home bathroom looking like a modern luxury hotel.
You have many options when it comes to flooring. From elegant hardwood, decorative tile to sophisticated stone, your feet will never feel better. To add a touch of modernity, throw in heated flooring to make those early mornings even more comfortable.
Additionally, how your bathroom is lit is another important design element. In more formal designs, a chandelier style fixture is a great choice. But natural light is another great option. When renovating a bath, consider how natural light can add to the ambiance of your space. For a dramatic look, you can incorporate a backlit onyx feature to your bath.
Allow the professionals at Synmar & Castech incorporate some of these new bathroom trends to help you build your dream bathroom–contact us today.
Photo Sources:
Green wall: Laurie Lambrecht for The New York Times