Our Custom Fabricated Countertops
The minerals of Georgia have provided beautiful and sturdy building materials for hundreds of years. From our roads to our home interiors, marble, natural granite and other rocks have smoothed our path of progress. With the 21st century, new materials that draw on the noble history of natural granite, slate, and various schists from around Georgia are offering designers and homeowners wonderful new options in custom fabricated countertops.

Solid Surface Custom Fabricated Countertops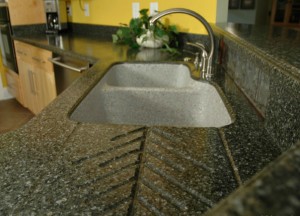 Traditional—and still admirable—countertop materials used for magnificent kitchens, wet bars, bathroom sinks and other surfaces have included these tried-and-true favorites:
Because of major technological breakthroughs, solid surface has emerged as a splendid option for combining the beauty and colors of traditional minerals with the resiliency, durability and seamlessness of cast materials.
Why Resin?
With Georgia's ample resources of marble, granite and other rocks, homeowners may wonder why solid surface materials are even necessary. Georgia minerals have served ably for generations to build our roads, brighten our home exteriors and create countertops.
Take those same historic minerals and combine them with the properties of resins and casting materials and you have the best of tradition and advanced science. Solid surface provides the natural look of real stone while offering the best benefits of modern plastics.
World of Opportunities
The American Composites Manufacturers Association (ACMA) offers courses for installers and technicians to gain the specialized training to work with solid surface materials. This intense training is needed because this revolutionary solid surface product is the raw material that provides enormous flexibility in selection:
Color
Shape—Because solid surface is cast from resin and minerals, it can be configured to any shape, any space
Molded-in sink—Your counter and sink are a seamless, continuous piece, with five designs available
Edge design—Ogee, bull nose, chamfer, ¼-inch round over, ¾-inch round over
Backsplash design
Superior Service
A solid surface custom fabricated countertop provides superior service for years. From careful color selection to complete control over the countertop shape, including built-in features, homeowners and designers have absolute mastery over the results. The material itself answers many issues:
Non-porous—No worries about bacteria, mold or mildew forming from a wet environment
Warp-resistant—Because it does not absorbs moisture, it's resistant against twisting and deflection
Nearly stain-proof—Easy wipe-up or, for tougher stains, a gentle sanding
Scratches are never a problem—scratches can be easily sanded out
Homogeneous material all the way through—An unfortunate nick or gouge never stands out and is easily repaired
Imagination
Solid surface gives an interior designer or homeowner in total control of the final appearance of the kitchen countertops. With careful planning, built-in options can provide years of worry-free use. For every location in a kitchen, a built-in accessory can help:
By the stove, consider ThermoRod trivets for convenient placement of freshly baked goods or cooked foods
For fast cleanup, imagine running a cleaning sponge across the countertop and directly into the cast-in sink, with no seams, no ridges, and no transitions from solid surface countertop to sink
Next to the cast sink, consider a built-in drainage board that will never harbor bacteria, breed mold, or give mildew a foothold
Designers' Choice
Solid surface custom fabricated countertops for kitchens, bars and baths are the designers' best choice. Because of the wide range of sturdy resin pigments, more than 55 color options are available. Bring in a swatch, tile, paint chip or laminate floor sample and select the ideal color:
Contrast for a bold look
Complementary to tie countertops to cabinets and floor
Analogous for serene and calming effects
Triadic schemes for vibrant, upbeat looks
With solid surface custom fabricated countertops, your imagination can know no limits.