Enhance Your Shower by Getting Cast Marble Shower Borders and Updated Glass Doors
Your bathroom can easily become outdated through the years. Adding cast marble shower borders or shower extensions and an updated glass door to your shower can provide an instant, functional update to your shower.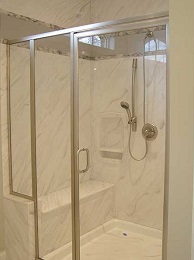 It's a versatile, durable addition that can complement the look of any bathroom and make it seem bigger and brighter. Glass shower doors are the perfect way to show off shower renovations to their best advantage.
Consider custom-made cast marble shower extensions or shower borders
Adding custom-made cast marble shower extensions or borders to an existing shower is a cost efficient way to update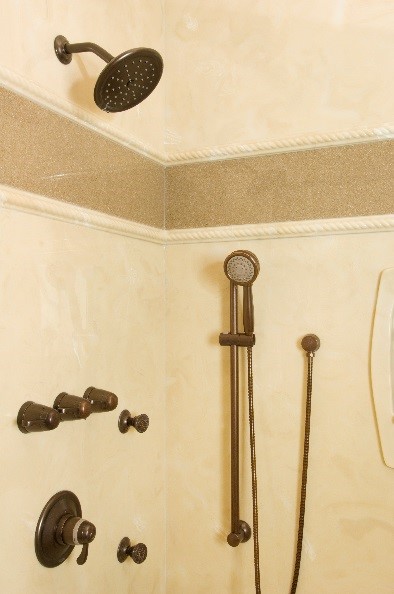 your bathroom and add height for better functionality to your shower. Cast marble shower borders or shower extensions are custom-made to virtually any size and shape in a vast variety of colors and patterns that will complement your existing bath décor.
Avoid the high cost of having to replace your entire shower or bathroom. Synmar and Castech design consultants will assist you with the best cost-efficient way to update your shower or your entire bathroom without having to demo and replace everything in your bathroom.
Consider custom-made shower doors and glass enclosures
Shower doors may develop appearance issues over time. They're exposed to a
daily onslaught of water and chemicals, which can make the glass look dull and even form water spots over time. Replacing your existing shower door can have a big impact on the look of your entire bathroom.
Custom-made glass shower doors are one of the most popular trends in bathroom design. They are available in a wide array of designs, colors, tints, and thicknesses. Whether you prefer a sleek, modern look or a more ornate shower door, there's an option that will suit your preferences.
Frameless glass doors are a popular option that adds a touch of elegance to any bathroom. They are one of the best ways to show off your new cast marble interior, since there's no vertical metal to distract your view. Also, these doors are easy to maintain since they don't have a metal track that can be hard to clean and keep from corroding. A wide variety of frameless options are available, offering a creative solution to suit any style of bathroom.
Limited on space? Instead of pivoting glass doors, sliding glass doors can be used for space-limited bath areas. These doors also come in a large variety of contemporary design options, as well as the highest level of convenience.
Ready to upgrade your bathroom? Contact us today. Our design team at Synmar & Castech can help you choose the right design and accent color for your shower interior, as well as giving you the best recommendations on contemporary glass options, so that your bathroom is transformed into a beautiful functional oasis.