Choosing Your New Kitchen Counters
Countertops are the centerpiece of your kitchen and should look great while lasting a lifetime.
Environmental stressors like humidity, high heat and sharp utensils, though, can put strain on kitchen counters, so choosing carefully and considering all of your options is definitely a decision that will pay off in the long run.
Popular Countertop Options
Certain options can give you more flexibility when it comes to preparing meals and allowing more guests to enjoy time spent in your kitchen. For instance, a stone countertop with additional overhang will result in additional countertop space and allow the space to entertain guests while also enjoying the benefits of stone's resiliency.
Natural Stone Counters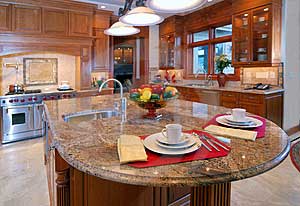 One word comes to mind when considering stone for your next counter: diversity. Whatever color, pattern and style you have in mind, there's probably a stone out there to fit your expectations.
Natural Granite can lend an upscale flavor to your kitchen. Limestone and soapstone are two additional options you might consider as each lends a more laid-back, bohemian flare to your home's decor.
Natural Granite or Stone countertops is custom-fabricated to match the dimensions of your kitchen. The top layer of stone counters are also sealed and polished to ensure years of durability. Natural Stone counters can also withstand the heat of sizzling pans and occasional contact with sharp objects.
Quarts Counters 
Quarts is even more resilient against cuts, stains, heat and chips than granite
or natural stones. A quartz countertop can also offer you a wide spectrum of colors and tones.
Surprisingly, quartz is also a non-porous material, which means that your family can enjoy a touch of luxury without taking undue precautions.
In short, quartz countertops can give you a contemporary look of beauty for years to come, and give your family years of worry-free durability.
Solid Surface Counters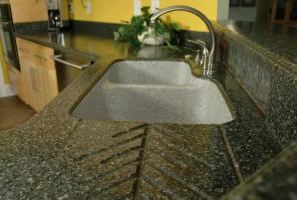 Solid Surface Counters is a resin based countertop material that is extremely versatile, repairable and seamless.
Unlike natural stones, solid surface allows virtually any shape or size capability with a seamless finish. Solid Surface can also be made with seamless kitchen sink styles that can be molded into your Solid Surface countertops for an easy-to-clean harmonious finish to your kitchen counters.
Cast Marble Back Splashing
Cast Marble comes from a metamorphic rock and is incredibly easy to work with. This translates to easier installation, as well as a seamless, custom job. Cast Marble back splashing is also an incredibly affordable way to usher a touch of class into your kitchen's overall decor.
Each piece of Cast Marble is unique and highly versatile. Cast marble can also be made in a custom color to match your countertops. Cast Marble back splashing can also be used to compliment your preexisting counters, allowing you a cost-efficient way to update your existing kitchen with a fresh new décor scheme.
Measuring for Success 
Getting your measurements right is an essential first step to take in order to determine whether your dream counter is doable and within your budget.
To get a rough estimate of how much your new countertops will cost, simply draw a rough sketch of your kitchen with dimensions, find out the material option(s) you're considering (e.g., quartz), and an idea of what type of color and pattern you are leaning towards for your décor scheme.
You can use the guide below to keep tabs on every surface dimension. Make sure to factor in islands or set apart cooking areas into your calculations.
http://www.homedepot.com/hdus/en_US/DTCCOM/Home_Services/Countertop_Installation/Docs/countertop_measure_guide_ln.pdf
Visit the Synmar & Castech showroom in Atlanta, Georgia and meet with one of our design consultants to discuss design details, material options and estimated costs of your new kitchen countertops.