Walls and Accessories Bring Beauty
Cast marble shower walls and accessories bring beauty, durability and custom color options to your Atlanta home's bath, all at an affordable price. When you look at the shower walls of your Atlanta-area home's bathroom, do you feel uplifted or depressed? With wise planning and good design, your bath can deliver a huge return on investment, boosting your home's value. If you find yourself wishing for bold, beautiful shower walls, consider the many benefits of cast marble.
Superior to Stone
Cast marble is a human-engineered, earth-friendly product that uses real minerals and polymers to blend and cast a building product that meets your exacting specifications for color, design, and durability. The International Cast Polymer Alliance (ICPA) provides an excellent online resource to help homeowners learn more about this versatile decorating product. It takes you through the steps of creating cast marble, ideal for bathroom shower walls:
• Working with your interior decorator or bathroom contractor, you select exciting colors and patterns you desire for your shower walls, shower pans, borders, bench or corner seats, shelving, soap dishes and more.
• Polymers (extremely strong, castable plastics) are combined with minerals to make every needed shape
• Colorants are added to the casting process to achieve precisely the color match you desire for your Atlanta-area home
• A "gel coat" is applied to produce a lifetime, high-gloss finish to your cast marble shower walls and accessories
• The finished product resists stains, bacteria and daily wear.
Superior Installation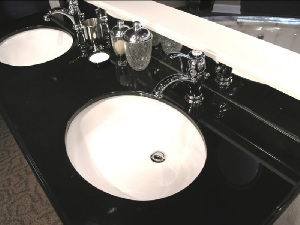 By casting pieces to incorporate rounds, fluting, trim and irregular shapes, manufacturers of cast marble can equip your Atlanta home's bathroom with easy-to-install shower walls and accessories that go up quickly, last for decades, and resist damage.
Quarried marble must be cleaved (split), sawn or carved to form shapes. It requires more labor than cast marble before and during installation, simply because of quarried marble's weight, brittleness and susceptibility to breakage.
Cast marble shower walls have no grout lines. Seamless construction cuts down on cleaning time and gives no foothold for mold or mildew to grow.
Superior Environmental Impact
Marble quarries produce not just greenhouse gases from machinery and vehicles, but tremendous waste from cutting and removing marble pieces. Many of the so-called scraps previously had no use, but today form one of the ingredients of cast marble. Casting marble using polymers and marble dust rescues that waste, recycling it into beautiful, custom-crafted shower walls and accessories.
Superior Price and Durability
Cast marble shower walls can be made locally, without waiting for expensive imports or lengthy ground transportation from a port to your Atlanta home.
If you chip or crack quarried marble, be prepared for expensive repairs or replacements. Cast marble, however, is extremely durable, has no built-in fault lines and does not easily stain.
Quarried marble can be notoriously hard to maintain. Its open structure can easily stain and form water spots; however Cast Marble is not a porous material; therefore, allowing a practically maintenance-free, easy to clean surface for your bath.
Superior Choice
To best appreciate the beauty, diversity, color palette, and accessories available with cast marble, contact us or drop by the Synmar & Castech showroom. One of our design consultants will assist you with the all the options and choices available for your bath project.
It's not your 80's cultured marble! Choose from hundreds of decorator, designer buff series, onyx, composite granite or beach glass colors. Want a truly unique and one-of-a-kind color or pattern? Ask us about custom color creations specifically created and designed for your bath project. Run your hand over Cast Marble shower walls, feel the luxury of textured trim samples, and see how we can match any tile or paint sample to suit your discerning taste.