New Bathroom Sink Designs For 2015
When it comes to sprucing up the atmosphere in your bathroom, it's important to keep in mind that it's all about design.  And while redesigning your bath area may seem like a difficult task to take on, you can take comfort in knowing today's latest design trends will lend a helping hand.
Here's a quick look at new bathroom sink designs for 2015.
Customization is the Way to Go
For a look that is truly unique to your home, you'll want to customize your sink design according to your own preferences.  Fortunately, there are literally millions of custom design materials to use.  Take for example, choosing the popular, modern square or rectangular sink design with a granite or cast marble vanity top, and a backsplash featuring mosaic, glass or patterned tiles.  This custom vanity top design is sure to impress.
Make Space for Two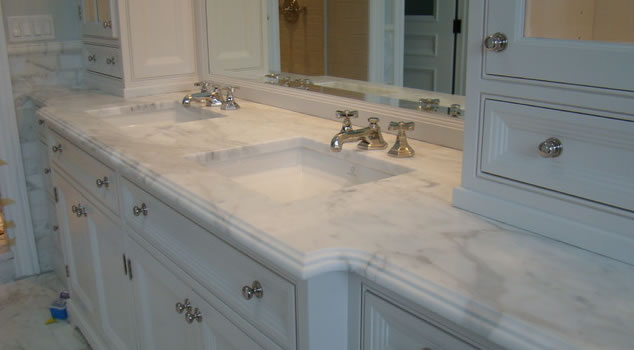 If you're looking for a way to divide bathroom space so that two people can comfortably use it according to their own needs, installing two separate vanity tops, or offsetting your sinks for more countertop area can help you accomplish this goal.
Take Advantage of Your Space
If you have a larger bathroom — at least 5′ x 9′, you can take advantage of the space by installing a larger sink.  This type of sink works perfect in narrow bathrooms, while at the same time providing lots of valuable countertop space.
The Takeaway
When making changes to your bathroom, start out by asking yourself the following questions:
How much traffic do you expect the bathroom to get?
Do you prefer single or double bowl vanity tops?
Do you need large storage space under and around the sink?
Do you want alot of countertop space?
To learn more about sink & countertop options for your home, visit our showroom to see sink options and designs in action. We'll be happy to answer any questions you may have. Since 1978 Synmar & Castech has provided customers in Georgia and surrounding states with only the most sophisticated solutions to your bathroom renovation needs.