Kitchen Island Design Basics
Kitchen islands are all the rage. In addition to providing a wonderful aesthetic, they can be outfitted with extra appliances, seating, and counter space. When it comes to combining function with beauty, there may not be a better solution for your kitchen. Here are a few design tips to keep in mind when choosing the perfect island for your home.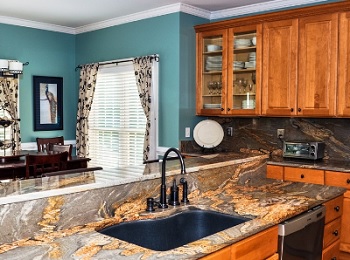 The Social Center
Islands provide a center for socializing in your kitchen. It is where you place snacks during a big party and where you prepare holiday meals. Kitchens have long been the center of the home, and of course, there is no shortage of options when it comes to designing your kitchen. First and foremost, you must consider flow and spacing. Leaving enough room in the walkways, as well as enough space to socialize, is an important aspect to keep in mind.
For smaller kitchens, a movable island may be the way to go. Movable islands have small countertops with essential storage space that can be used to prepare food and act as a snack buffet. All it takes is some floor-proof sliders to enable you to reinvent your kitchen space constantly. You can add it to the end of a counter if you want to keep the area open, or you can leave it in the center to act as a center for food prep.
Function, Function, Function
Once you have determined the spacing and mobility of your island, you can begin to visualize the proper function. Many people enjoy placing a second sink in the island. This allows you to set aside one sink for food prep and one for washing hands and dishes. Of course, once you determine its function, you can settle on the appropriate height. Islands for food prep will often be set at a different height than those used primarily for seating.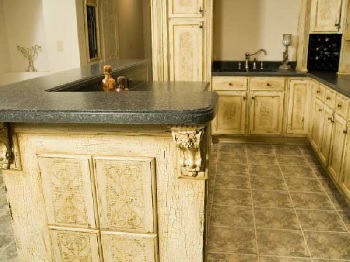 At Synmar & Castech, we offer uniquely sized countertops and custom pieces to accommodate any function and design choice. For example, many people use large islands with unique angles to improve the flow of their kitchens. If you leave one side of your kitchen open, the island can act as a distinguishing piece determining the entire shape of the area.
Last but not least, determine the arrangement of appliances, storage, and seating around your island. The latest trends include installing a doublewide sink and heating drawer on the island to expedite food prep. You can also consider placing an extra microwave or oven in your island to accommodate large gatherings. Be sure to account for where your other appliances are placed, because placing appliances directly across from each other is a surefire way to create a traffic jam.
Once you have determined an island that is right for you, be sure to invest in all the beauty and splendor you deserve. Contact the design team at Synmar & Castech today to get started on crafting the island to fit your dream design.