How to Select the Right Kitchen Countertop
Whether you are remodeling, building a kitchen from scratch or ready to give your kitchen a face-lift, one of the most important components is the perfect countertop to fit your needs and lifestyle. Several options are available for kitchen countertops in regards to materials, colors, textures, and sizes. Therefore, there are important things to consider before selecting a kitchen countertop surface material. Discover which is right for you based on your budget, types available, functionality, maintenance, customization, and style.
Keep in Mind Your Budget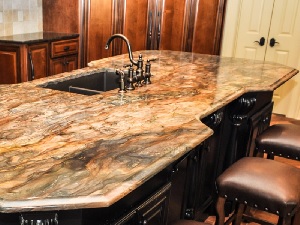 Before you select a countertop material, be sure to set your budget before beginning the search. Each style of countertop varies in cost. Thankfully, there are many options out there, no matter what price range you are looking to stay within.
Many times people fall in love with items that are not within their budget, so having a clear idea of what you want to spend helps out tremendously when you decide to tour a showroom or view samples of materials.
Countertop Options
If you have your heart set on a particular look, but the material doesn't fit your current need or budget, with our consultation you'll be sure to find the right countertop material to match your dream kitchen. Synmar & Castech offers surface materials for kitchen countertops that include natural granite, quartz, and solid surface.
Granite is a beautiful natural stone that is offered in a wide variety of shades and patterns where no two pieces are exactly the same. It is heat-resistant, making it easy to work on surrounding your stove or oven. Granite countertops are also known to be bacteria resistant as long as they are kept periodically sealed.
Custom fabricated quartz countertops defy scratches, heat, chemicals and stains. They are non-porous, and therefore, never need to be re-sealed. Due to these characteristics, quartz is becoming a more popular selection for kitchen countertops. At Synmar & Castech, we have a high quality quartz line that includes four premium brands, including Silestone, Caesarstone, LG Viatera, and Hanstone.
Solid Surface countertops have tremendous appeal in that they are seamless, versatile and dependable. The material is comprised of minerals, pigments, and resin, which give it the look and strength of natural stone. Solid surface countertops can also be easily repaired without leaving any marks behind.
Functionality, Maintenance & Customization
Your main focus when selecting the right countertop should be on how you live. Think about the perfect countertop that requires little maintenance, so that you and your children can enjoy making those messy sandwiches without creating the worry of damage to the surface of your countertops. If you do require a countertop that can take a lot of wear and tear, granite and quartz are great options. They are perfect for resisting damage since they require very little maintenance and can last a lifetime due to their durability.
As far as customization, square edges are typically standard on most countertop options, but there are other types of decorative edges available. These include: bullnose, chamfer, ogee, round over, and more.
Style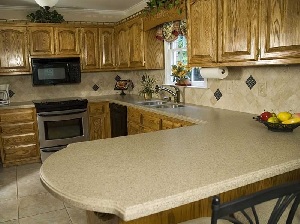 In addition, the style of your kitchen countertops should match the aesthetics of the rest of the space. If you have stainless steel appliances, for example, a beautiful granite counter can add that touch of elegance and color that you have been searching for.
Choosing the right countertops also requires you to pay attention to the amount of material needed. Colorful countertops or patterned ones can look stunning, but they can also be overwhelming in a large kitchen that has a lot of surface space. Keep in mind your kitchen's color palette so that you don't end up purchasing material that doesn't work well with the rest of the room. This doesn't mean that they have to match, but it is best if they complement the style.
Selection of a great kitchen countertop surface material can be a complex process if you aren't sure what you are looking for. Remember to set a budget before you begin the search and take the time to consider the pros and cons of each type of countertop material available. More than anything else, choose the kind of material that you will be happy with each and every day. If you need help with ideas and the design of your kitchen remodel or face-lift, turn to Synmar & Castech for all your countertop needs. Castech also eliminates many of the seams that other fabricators into their installations to give you a more attractive as well as durable countertop.